Category:Shrine and Temple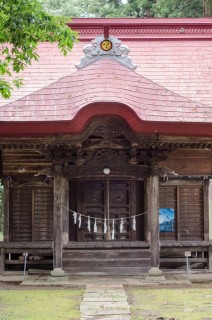 JAPAN TRAVEL
Typical village Shinto shrine
---
Totto Shrine is located in Higashiagatsumamachi, in the Gunma Prefecture. Gunma is in the middle of the main Japanese island, and is probably most famous for Kusatsu Onsen and Nikko.
The most recent festival took place at the beginning of the farming season, at the end of April, in order to thank the Gods for a good season. There are many people present during festival ceremonies, especially children, because some candies and rice cakes are thrown into the crowd.
Getting there
Take Agatsuma line from Takasaki, and get off at Yagura station. 
JR Bus from Shinjuku Station to Kusatsu. 
By
Dorothee Tsunoda