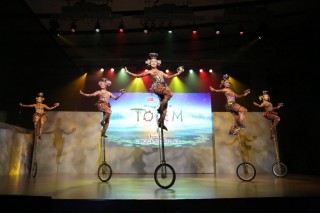 TOKYO — The world-famous Cirque du Soleil kicked off its 13th tour of Japan on Wednesday, playing to a packed house at the Odaiba Big Top.  
The new production TOTEM, which lives up to the high standards of its predecessors, is an evolution-themed performance that traces the fascinating journey of the human species from its original amphibian state to its ultimate desire to fly. Characters include the Amerindian Dancer, Crystal Man, Scientist, Tracker, Valentino and Clown Fisherman. Acts include unicyclists with bowls on their heads, hand balancing, foot juggling, hoop dancers, rings trios, acrobats, a trapeze duo, roller skaters and clowns.  
The show also explores how curiosity, ambition and passion drive humans to make the impossible possible. The characters evolve on a stage evoking a giant turtle, the symbol of origin for many ancient civilizations. The performance adopts new technologies such as projection mapping and movable stages.  
Cirque du Soleil started its journey in Canada as a small group of street performers in 1984 and has grown to now consist of about 4,000 people from over 50 nations. Its popularity has soared in Japan with more than 13 million people viewing their 12 performances to date.  
Tokyo performances
Performance dates: February 3 (Wed.) ~ June 26 (Sun.), 2016
(*After the Tokyo performances, the TOTEM Japan tour will visit Osaka, Nagoya, Fukuoka and Sendai. Details of the performances in each location will be announced at a later date.)
Venue: Odaiba Big Top
Ticket prices: Adults (6,500 yen ~13,500 yen) Children (4,500 yen ~ 9,500 yen)
For tickets:
http://fujitvdirect.jp/pc/en/totem_en
Japan Today