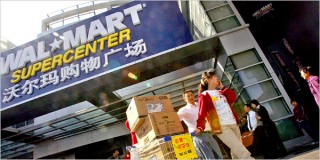 MONEY NEWS  
Wal-Mart Stores Inc. will close about 30 outlets in Japan as it focuses on its fresh food offerings and expands its e-commerce business in the world's third-largest economy.  
Wal-Mart's Seiyu unit also will accelerate upgrades to its existing stores as it broadens fresh food and deli offerings, the world's largest retailer said in an e-mailed statement today. About 50 stores are expected to be remodeled by next year, it said.  
The store closures come after rival foreign retailers have pulled out of the Japanese market, which is fragmented and faced with severe price competition. Carrefour SA of France sold its Japanese stores to Aeon Co. in 2005, and that was followed by Tesco Plc's decision to sell its local business to the same company in 2012.  
Wal-Mart's Seiyu chain has 373 outlets nationwide and employed 17,916 employees including temporary workers as of December last year, according to Seiyu's website. Apart from Seiyu, the U.S. retailer also runs Wakana deli outlets and Livin hypermarkets.  
The company will introduce more versatile food processing equipment to provide greater flexibility to change menus at the Wakana unit, according to today's statement.  
Same-store sales in Japanese supermarkets fell for a 22nd straight year in 2013, according to the trade ministry.  
Aeon faces a "tough challenge" to meet forecasts as its discounting strategy hasn't stimulated sales as much as expected, Credit Suisse Group AG analyst Taketo Yamate wrote in an Oct. 6 note. The company said Oct. 3 that net income for the six months ended Aug. 31 fell 91 percent from the same period last year.  
Wal-Mart, which first invested in Seiyu in 2002, made the Japanese supermarket a wholly owned subsidiary in 2008. Wal-Mart is based in Bentonville, Arkansas.