The area-specific sweet will be available for a limited time only.

One of the main reasons less adventurous travellers go to multi-national fast food joints when they're abroad is because their menus and layouts are instantly familiar. If you see a typical McDonald's, Pizza Hut or Subway, you can usually be pretty sure what you're going to get, regardless of the country you're in—indeed, these companies usually go out of their way to make restaurants look and feel similar for this very reason.

But McDonald's in Aichi Prefecture, Japan, decided to mix things up recently when, apparently in response to local residents' requests for dishes more becoming of the area, they unveiled these Ogura Soft Hotcakes (the 'soft' refers to the ice cream rather than the pancakes), which will be on the dessert menus of 174 McDonald's outlets in the prefecture from June 6 until an unspecified date at the end of the same month.

▼ 小倉ソフトホットケーキ, or Ogura Soft Hotcakes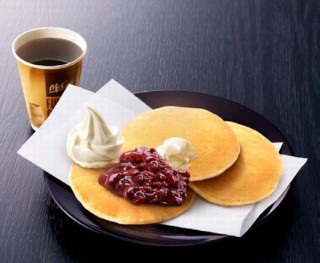 The sweet dish consists of three fluffy pancakes, a dollop of soft-serve ice cream and, most important of all, a generous serving of sweet adzuki paste, the like of which is commonly enjoyed in regional treat 
ogura toast (Japanese)
.
This isn't the most inspired dessert creation ever, admittedly, but it's actually kind of cool to see a big company like McDonald's doing something a little more area-specific, and it's definitely something we'd like to see a lot more of in the future.
▼ Ogura toast, which features butter or margarine and a layer of Ogura-an sweet red bean paste, is popular in Aichi Prefecture, especially Nagoya.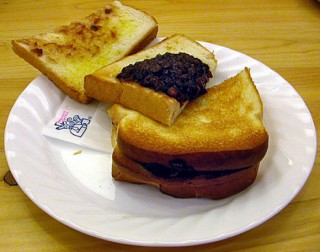 McDonald's Ogura Soft Hotcakes will retail for 360 yen (US$3.30) per serving. We've yet to try them for ourselves for obvious reasons, but they look like they'd go down an absolute treat with a cup of strong coffee, so if you happen to be down in Aichi next month and have chance to try them, do let us know how they taste!