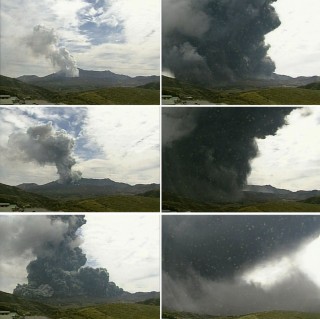 JAPAN TIMES
Mount Aso in Kumamoto Prefecture erupted at 9:43 a.m. Monday, sending ash 2,000 meters into the sky and forcing the evacuation of dozens of tourists, the Meteorological Agency said.
Police and other authorities said about 30 tourists who were near the crater at the time of the eruption were safely evacuated, and the government said there were no immediate reports of injuries or casualties.
The Meteorological Agency warned any tourists in the area to evacuate quickly.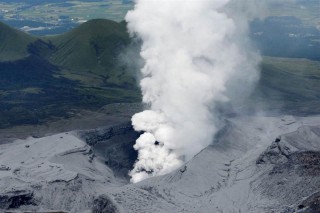 It was the first time the agency has issued an eruption warning since it began using a new bulletin system in August. The immediate eruption warning is issued to help local residents and climbers evacuate the area more quickly.
The agency upgraded the alert level for the 1,506-meter volcano from 2 to 3, which prohibits entry to the mountain. It also warned of the risk of falling rocks and smoke from the volcano, which is made up of five peaks, including Mount Naka.
An area within 4 km of Naka's No. 1 crater was declared off-limits by local authorities, who said the area includes restaurants and a museum but no residences.
The crater is accessible to tourists, offering a view of an active volcano that continuously emits smoke and occasionally erupts. The world's first rope way over an active volcano has operated there since 1958.
 
More than 100 tourists were visiting the museum about 3 km from the crater when the eruption occurred but were able to descend by bus, a museum official said.
"I saw white smoke rise in the morning that soon turned dark," said an employee at an inn some 7 km from the crater.
Kumamoto Airport, about 20 km to the west, said flights were canceled or diverted. All Nippon Airways Co. said it was canceling six flights to and from the airport while Japan Airlines Co. canceled four.
The central government has set up a headquarters to deal with the eruption.
Mount Aso, a popular tourist spot, has been rumbling since last year. In August, the Meteorological Agency issued an alert after detecting a rise in seismic activity around Sakurajima, a volcano south of Aso.
The alert level for Aso was raised to 2 on Aug. 30, 2014, advising people not to approach the central crater.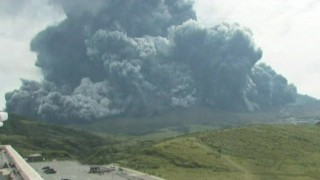 In a 1953 eruption, six tourists were killed and more than 90 others injured after the volcano spewed rocks and smoke.
Japan lies in the "Ring of Fire" — a horseshoe-shaped band of fault lines and volcanoes around the edges of the Pacific Ocean — and is home to more than 100 active volcanoes.
Last year, Mount Ontake, which straddles Gifu and Nagano prefectures, erupted unexpectedly, killing 63 people. It was the nation's worst volcanic disaster in nearly 90 years. In May, Kuchinoerabu Island, a remote islet off Kagoshima Prefecture, was evacuated after an eruption there.